Extraordinary Places
February 26, 2012
This letter is to people who walk through life and never recognize that they are in an extraordinary place. Being in these places happens every now and then – only a few times in our lives. These places are more than just nice, pretty and pleasant. They are more than special. They are in a unique category. They become a part of who you are and help shape and define you. This letter is also to those who have recognized in hindsight they were once in an extraordinary place. I hope it will encourage you to know another such place may well be ahead. I will be watching for mine and hope that I will know it when I arrive there. I wish the same for you.
I grew up believing in my heart that all places that you live in and call home are, by definition, extraordinary places. After several years of living, I found out this is not the case. Some places are just that. Places. Some are far more. Being within the boundaries of places that are extraordinary provides a kind of meal that nourishes everything within us. How do you know which is which? Early on, I knew only after I left an extraordinary place and found myself in one that did not rise above nice and normal. What followed then was a drastic disconnection and a clear understanding of loss. Another way of knowing that where you were was extraordinary is that years later, no matter how much time passes, you maintain the ability to close your eyes and feel exactly what it was like to be there. In my life — all 53 years of it — I found myself in three extraordinary places. I will do my best to take you there.
The Cabin On White Oak Mountain
We found the log cabin on White Oak Mountain on one of many trips made to the Blue Ridge Mountains while on vacation from our home in Jacksonville, Florida. I used to say that my birth certificate just had to be mistaken. I could not have been born in Tampa, Florida. I had such a natural and inbred love of the Blue Ridge Mountains — surely, I was born there and came from them. While I could not change my birth certificate, I could add a home there to my life. One day, we were wandering in our unspoken search for a vacation place in North Carolina. I don't remember how we wound up on White Oak Mountain. I just know that our driving around brought us to an empty log home with an amazing view of the mountaintops that — even though it was far away — I knew was Grandfather Mountain. The people who owned it had intended to live there all the time. This place would not have that. It was too cold, too filled with snow at times, too scarred by the winds at others. It was meant for people who understood they could only be there at certain times, and that would be enough. Our trips there saw my son be joined by a baby sister. It saw my precious grandmother show her first signs of Alzheimer's. And it saw my marriage come to an end. Ironically, this cabin was the one thing I took from that marriage. But in divorce, I could not keep it. It belongs to someone else now. It has been 20 years since I have been there. That makes no difference whatsoever. I can visit this extraordinary place anytime I wish. It takes only a quiet moment, and I am back there. I can see the pattern in the leaves that hang down from the trees over the front porch. I can smell the sweet perfume that marks this spot. I will never, ever forget anything I learned there. And I will continue to visit it in the years ahead as only extraordinary places can be.
The House On Algonquin Avenue
I found the house at 2918 Algonquin Avenue in Jacksonville, Florida a little more than a year after my divorce from the man who was the father of my two children. It was a devastating time for me because the divorce represented a huge failure. It was scary because I felt on my own, even though I had the emotional and, if needed, financial support from my family. Mostly, it was scary because I had no idea what I was doing and no vision for my life. It was lonely. For a little while, the children and I rented a condo on the outskirts of a very old and traditional neighborhood called Old Ortega. It was covered by huge live oak trees, and an out-of-style southern, traditional neighborhood feeling lingered in a persistent way. One day, a For-Rent sign popped up in front of a very old home one block closer into the neighborhood. The house was precious. The lot was huge. An enormous live oak held a tree fort platform up high and a swing down low. When I looked at this place, I didn't see the overgrown yard or the lack of anything warm displayed on the big front porch. I saw amazing possibilities, and I fell in love. My children were three and eight years old at the time. They considered the place scary-looking and really didn't want to move in there. We did, anyway. Over the years, they changed their minds. I did not change mine. I loved it from the start. In my years there, I experienced joy and rebirth, and I endured a head injury that threatened my life. In this extraordinary place, I recovered and became more than I was before. Even though I never did more than just rent this place, I considered it my own. I loved it and poured everything I had into turning it into what it really always was — an extraordinary place. I remember my last couple of days before moving away as days of dull hurt. I dreaded the coming times when I would not return there each day from work or church or errands. I left there in 1998. Nearly 14 years have gone by. Since then, this old house — one of the oldest in Old Ortega — has been torn down. That makes no difference whatsoever. I can visit this extraordinary place anytime I wish. It takes only a quiet moment, and I am back there. Inside, I could turn off the lights and find my way from room to room with no difficulty. Outside, I remember the spot for each azalea plant, and I can feel the dirt in my hands as I transform the yard into a place that slows down cars and turns heads. I will never, ever forget anything I learned there. And I will continue to visit it in the years ahead as only extraordinary places can be.
My House On French Street
By the time I found the house on French Street, I had experienced two extraordinary places. Logic would hope that I would recognize the third extraordinary place for what it was. To be honest, I thought this house was special because I bought it all by myself. It was the first home I ever owned a house on my own. That seemed extraordinary to me, but that's not what made it so. Like the house on Algonquin Avenue, I looked at it the first time I saw it and viewed amazing possibilities — not just a house that must have been really beautiful a very long time ago. In my walks, I met a longtime resident on French Street who told me about the family that built the house. I then understood that the house had great history, and I would need to work hard to live up to being inside its walls. Once again, I poured everything of me into it. That meant everything from restoring its heart pine floors to rebuilding its big front porch and turning the yard into one that slowed down cars, turned heads and brought open compliments from strangers who passed by as I sweated on my knees in yard clothes that, in any other place, would have been embarrassing. I went through times of happiness and hope there, and I endured the single, most difficult time of my life. For a time, I lost my precious daughter as she traveled a perilous path and chose to be away from me and our extraordinary place. She found her way back, and we enjoyed more times together in this house. But life was not finished with taking me to new places. The time came when I needed to move and leave it, and so I did. The day that the real estate broker brought me the signed contract, I stood crying crocodile tears in front of him. I simply could not help it. Even after moving away from Jacksonville and my house on French Street, I have remained in touch with my girlfriends and return fairly often to Jacksonville to see them. Each time, someone asks me if I have driven back by the house. My answer is the same. I have not. For awhile, I thought I would one day, but I know now that I will never drive back up to it. That makes no difference whatsoever. I can visit this extraordinary place anytime I wish. It takes only a quiet moment, and I am back there. I am sitting on the front porch after a full day of working in the yard. I look out over the plants and flowers that lie under the beautiful oak tree that frames this place. I watch the cars slow down and admire how beautiful it is. And I understand the most beautiful part really cannot even be seen. It's the part that has warmed me, comforted me and kept me close. I refuse to think of how many days have passed since I was last there. I will never, ever forget anything I learned there. And I will continue to visit it in the years ahead in the way that only extraordinary places can be.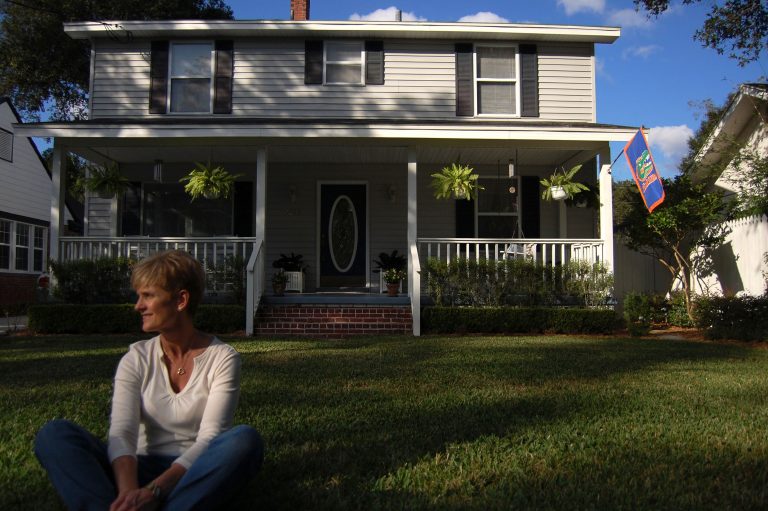 Postscript
I live in a gorgeous home now, but it is not an extraordinary place. I just know that deep inside me. I await another extraordinary place, and I believe that I will find it. Or perhaps it will find me.